If you are looking for homes for sale in Wayzata MN, all of us here at Black Dog Home are brimming with excitement to let you know that there is one particular home you will definitely want to check out: 123 Walker Ave. (talk about the perfect address). This beautiful house just won the Twin Cities Parade of Homes Dream Home award for Housing First Minnesota. And yes, that's one of our projects! All Minneapolis custom home builders dream of a moment like this, and all of us are over the moon to be able to share this beautiful home with you. It's a great example of the passion for details, luxury and functionality that we put into all of our custom homes. Take an opportunity as soon as possible to take a tour in person!
Parade of Homes MN Dream Home Award Winner: 123 Walker Ave
The Layout
We'd like to take a moment to share a little about the layout of 123 Walker Ave. in Wayzata, and why it became the Parade of Homes MN winner for this year. From the outside, you'll see a striking modern Tudor home with clean, contrasting lines and wonderful windows. The location is excellent as it's just two blocks away from Wayzata's downtown area, and an easy stroll to Lake Minnetonka.
This two-story award winner has 5 bedrooms, 5 baths, comes to 4,776 square feet and also has a finished basement that is ready to customize for your individual family's needs. Its wealth of windows gives this roomy, yet cozy home an abundance of natural light throughout the year.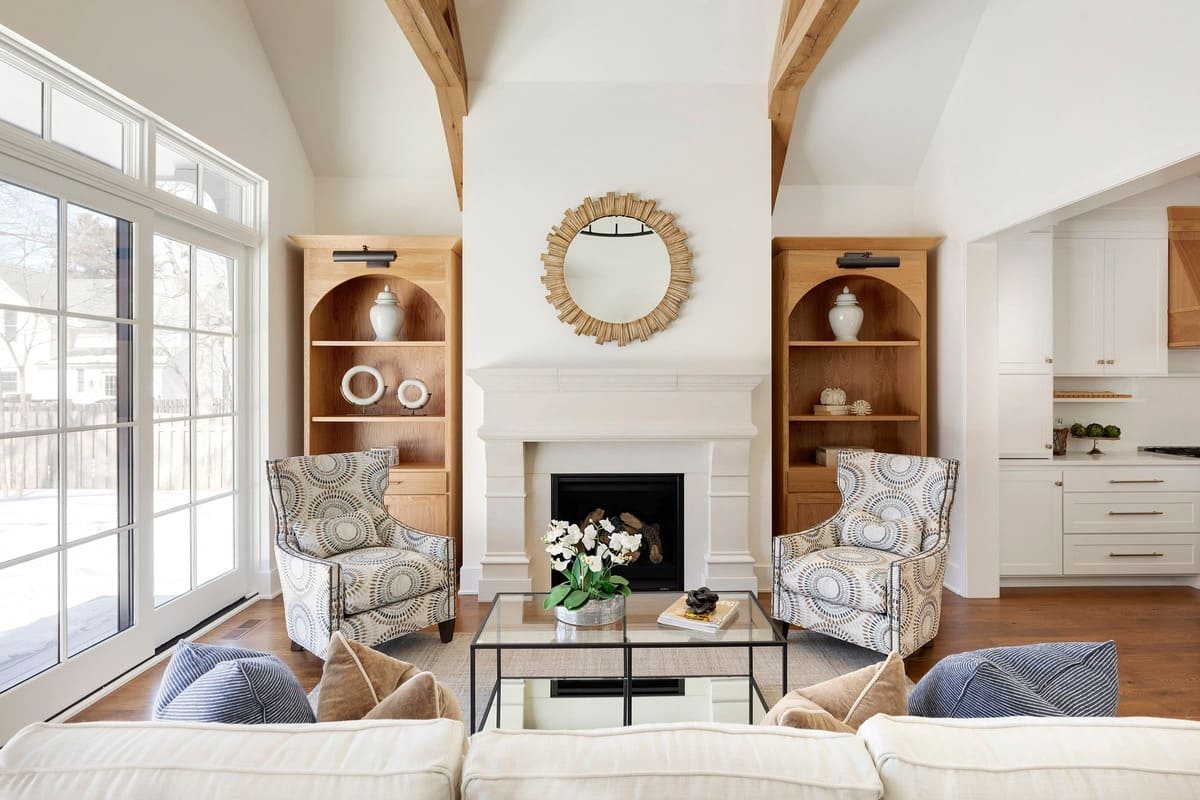 All of that natural light from the windows sets off the crisp, clean lines inside the home, with all the warm touches built into the design itself. The open foyer invites visitors inside with ample room for welcoming guests. The spacious two-car garage has a large mudroom entrance to stash shoes, coats, umbrellas and snow gear, so the mess isn't tracked into the home. Not far from there, is a half-bath powder room for ultimate convenience.
Considering the new ways of life today, there is a window-filled home office just off of the open kitchen and dining room. This is also flooded with natural light, which makes it the perfect area for family gatherings and entertaining. The kitchen and dining room area opens up into another beautifully windowed, high-ceilinged great room that effortlessly leads to the back deck.
The first floor also has a spacious master bedroom, complete with a spa-ready master bath that leads to a roomy walk-in closet for all of your getting-ready-for-the-day convenience.
The second floor is home to three of the bedrooms, each of which comes with a walk-in closet, and two of which have adjacent bathrooms. Above the garage, there is a bonus room that can be used as a flex room, a study, a second entertainment room, another home office, or anything you want it to become.
The basement has the fifth bedroom and bathroom, a bar, a game room and a rec room. Again, these details and how you want to use them are flexible for your needs, which is what makes this home a winner!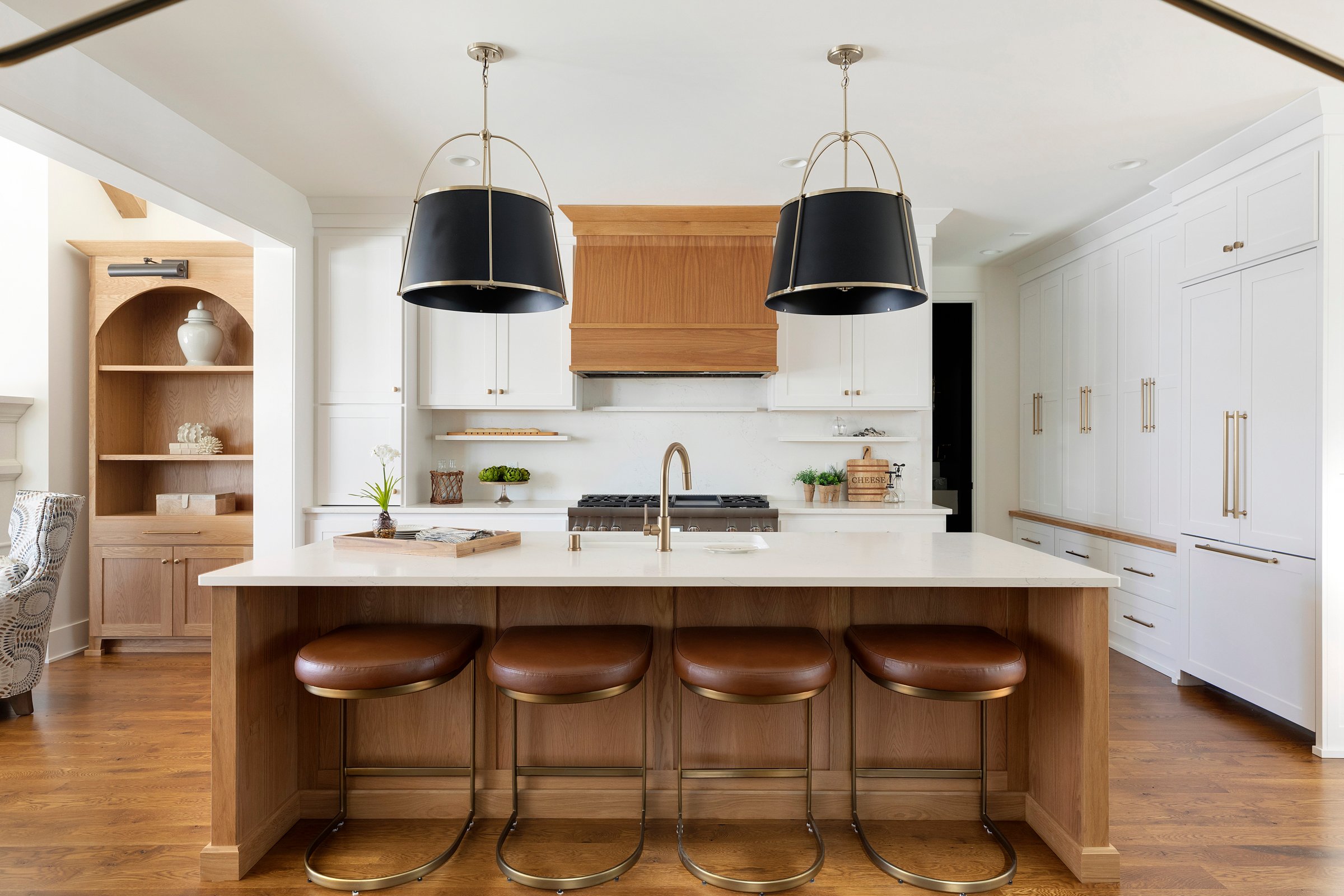 What's Unique about this Custom Home in Minneapolis?
In addition to the airy, bright feeling throughout the home, it is packed with details that make it a model of modern home building. It has a wine cellar, a flexible sitting area separate from the entertainment room and a generous amount of storage space you can use to stow things out of sight. This home also has all the necessary elements for adding an elevator and an accessory dwelling unit (ADU or "in-law" apartment). It's ready and welcoming for whatever your family needs, with plenty of flexibility for adding more unique custom features to the home in the future as needs arise. Flex rooms are something we recommend to families in all of our custom homes. So, whether you are the lucky ones to snap up this Twin Cities Parade of Homes gem, or you want to work together with Black Dog Homes on a custom home of your own, we understand that all the details matter, and we are ready to work to bring your dream home to life.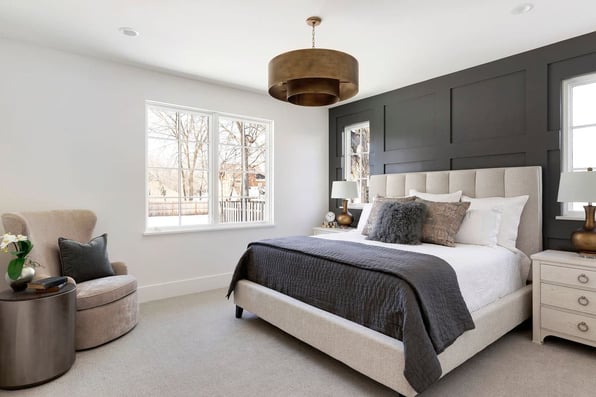 What to Expect When Building a Custom Home in the Twin Cities
For almost two decades, Black Dog Homes has developed a reputation as the Minneapolis home builders Twin Cities families can trust with one of the biggest investments they'll make in their lives: building a custom home that fits their needs and brings their dreams to fruition. We can bring luxury and functionality together like no one else in the area. If you are considering a step towards your own custom home building project, get to know our process and then contact us to get the ball rolling, or just ask us any questions you might have about where to begin. We specialize in Minneapolis build-to-suit homes that speak to their owners' needs, lifestyle and tastes in classic, functional and beautiful ways. We fully explain how long a custom home building project takes, and also help you time your project for best results.
Ask Your Twin Cities Custom Home Builders
Black Dog Homes has perfected the team concept of luxury home builder MN families rely on for bringing together the best designers, architects, engineers and contractors to fit your project. We will not rest until you are completely pleased with your home project. You can count on exceptional craftsmanship and a commitment to fulfill what we say we will do, on budget, on schedule, and to your specifications.
Make sure to check out our custom homes gallery for inspiration, and request a free copy of our complete Building a Custom Home Guide to learn all the things you'll need to know as you prepare for your luxury home project. When you're ready to start your Twin Cities custom home project, contact us: 763.308.5098. We look forward to working with you!