Now that we've spent a year taking a good look at the insides (and hopefully outsides) of our homes, we're getting a lot of calls from homeowners emerging with questions about the best home improvements to increase value—for resale value and quality of life.
There's a lot of overlap between the two. And yet, the best value home improvements aren't always the ones you might think of when it comes to home improvement ROI. Let's break down some of the top home improvements people are clamoring for this year, and if you are already itching to get started on a home renovation project of your own don't hesitate to contact us. Now, let's talk about what home improvements add the most value in 2021...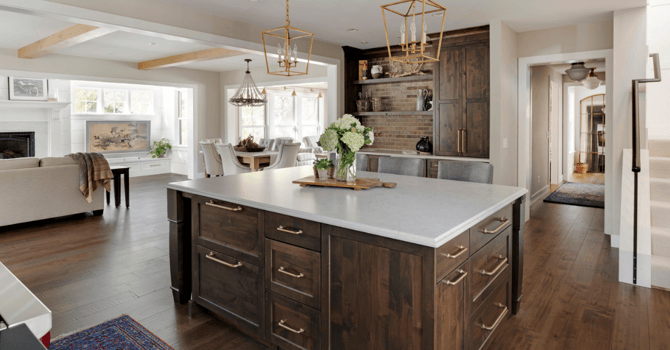 A Dedicated Home Office: #WFH
Dedicated home office space remains in high demand. When peyesople suddenly had to conduct all of their ordinary office work at the kitchen table, in the living room, and even out on the back porch last year, the question became: "How can I add value to my house in 2021?" The now obvious answer was, of course, a dedicated #WFH space. Home offices are one of the best home renovations for resale that we're seeing right now because everybody needs them. You could even have a built-in desk nook or reading space created as a part of your design plans.
The Kitchen is Still King
When you think about the best return on investment home improvements, remember that a solid kitchen remodel is never out of style. And with restrictions on eating out and so much of our social lives restrained to our own friends or family, the kitchen has re-entered the spotlight as a prime hangout space. If you feel cramped, or the kitchen layout presents inconveniences, chances are potential homebuyers will feel the same, which is why a kitchen is usually one of the best home improvements for resale. How much does a kitchen remodel increase home value in 2021? Estimates vary, but your ROI could run between 57% to 73% here in the Twin Cities for a well-designed kitchen remodel. Smart storage, updated appliances, double kitchen islands, updated colors and finishes, more natural light, and functional updates are all things to consider.
Spa-Style Bathrooms
The bathroom isn't far behind the kitchen when it comes to home improvement return on investment. Your standard ROI for this runs between 52% and about 61%. If this is where you want to focus your attention, consider 2021 details like larger, curbless showers with accessibility additions, seats, rain-head showerheads, and, of course, heated floors and towel racks for our chilly Minnesota winters. Relaxing details like soaking tubs, aromatherapy shower heads, steam showers, and dedicated holders for your candles and a glass of wine will delight you and potential homebuyers.
Extended Outdoor Living
Last year saw people seeking refuge from the indoors by heading to their backyards, not all of which had been designed to spend quality time in. Again, this is a design trend that was climbing before the pandemic, but that really picked up steam and isn't slowing down anytime soon. Adding a pergola-covered outdoor dining area, an attached greenhouse or glass porch, fire pits and fireplaces extend the amount of time you can spend outdoors. Some people have even added workspaces in their outdoor living rooms.
Put that Basement to Work
Another area of interest this year we've been talking about a lot recently is, the basement. Homeowners want to completely refresh dated designs, or completely finish basements that are dank, dusty, and strung over with cobwebs. Obviously, there may be some design constraints depending on the basement in question, but consider the possibilities:
A home gym
A home theater
A home office
A school area or children's playroom
A flex space that can adjust as your needs change
An entertainment and game room
A wine cellar
A fresh, new master bedroom suite and bathroom for guests
A well-finished basement can indeed become one of the best home upgrades for resale value in the long run.
A Build-Up or Bump Out Home Addition
Adding an extra room by building up or bumping out has been very popular this year too. With more time at home, people have discovered all kinds of needs for extra space, whether that was to add functionality, a sunroom, a home office, or a schoolroom for the kids. Another major reason many families are expanding on their current home's square footage is to create extra living space for loved ones; specifically, in-law suites. These are full, miniature living areas with a bathroom, kitchen, and living room, all self-contained, with a separate entrance. This enables families to keep loved ones close and safe while still giving each generation its own independent living area. It's a nice balance. For some families, it becomes an extra source of income with the potential to rent the space out. Although these additions can be expensive and may require a loan, the quality of life improvements and bigger resale value does increase the remodeling return on investment.
Unexpected Best ROI home improvements
In addition to these major remodeling projects, several less "obvious" and invasive renovations make great home improvements for ROI. For example, you might ask, "Do new windows increase home value?" The answer is yes. New Energy Star windows and doors improve your home's energy efficiency and improve curb appeal too. Floor-to-ceiling windows also bring in far more natural light and are highly coveted these days. Upgrading the HVAC system, installing smart thermostats and systems, doing electrical upgrades and maintenance improvements are all "hidden", yet impactful ways to boost home value. Homebuyers love that kind of stuff because it means they have less work to do when they buy.
Also, consider custom home improvements that add the most value; things that increase the luxury factor of your home. Who hasn't wanted heated flooring during our Minneapolis winters, or coveted custom, built-in storage space? You can never have enough storage space, and neither can homebuyers.
Boost Your Remodeling Return on Investment
Here at Black Dog Homes in the Twin Cities, we will help you bring your home improvements ROI up with functional, gorgeous home upgrades and renovations that you'll love living in, and that homebuyers will start bidding wars over. Schedule a meeting with our Minneapolis design-build team today or just give us a call (763.308.5098) to discuss the details and get started today!
You may also like: How Much Does a Basement Remodel Cost in Wayzata MN