After having to spend so much time at home in the past year, homeowners started to look at their unfinished basements and all the cobwebs, stacks of old boxes, damp spots and realized now is the time for a remodel.
Even folks with an already finished basement started thinking, "How can we optimize our space down here…" And yes! There are many ways you can turn that dank, dark old basement into a delightful place you love to spend time in. Just look at these ideas and imagine the possibilities for your basement remodel before and after pictures! It might sound daunting, but starting off with the right basement remodeling contractor in the Twin Cities will make the process as painless as possible.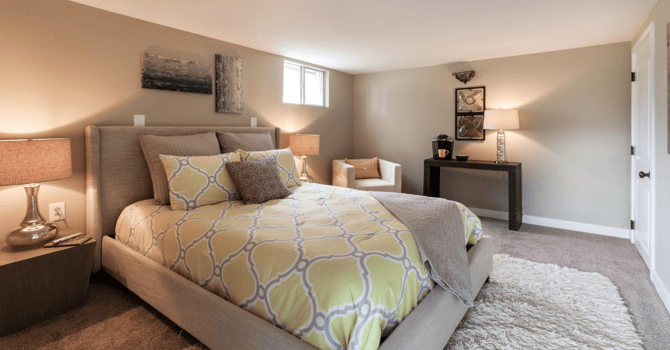 So, "What is the first thing to do when finishing a basement?" First, you need a professional Minneapolis design-build firm to check out the current conditions in your basement. Being largely underground, basements come with several potential health and safety issues you'll want to avoid. Water, gas, and electrical lines often run through this area, so special care is needed when making alterations. Basements are also notoriously prone to water, moisture and mold issues. And if you want to lower the floor to make more space, it must be done with great care to ensure no water lines are affected, and that it doesn't damage the foundation. If you want to remodel your basement, but aren't sure what's possible downstairs, contact Black Dog Homes for a consultation, so you understand fully what needs to be done and the specific needs of your current space.
Basement Remodel Tips: Materials and More
Did we mention basements can get wet? We're not just talking mold here. In Minnesota, we get all that snow, then it melts, and then we have torrential spring downpours so drainage is a big part of basement remodeling. And this doesn't mean you shouldn't remodel your basement, but it does mean that you need to prevent water infiltration down there. In this case, specific types of materials and drainage design are paramount.
Some water issues can be avoided with built-in offset space and vapor barriers. Figuring out how your surrounding property drains is another good way to plan ahead for the right water avoidance in your basement design. There may be things you can do to drain and channel water away from your basement from the outside. Explore all of those avenues!
As for basement remodeling materials, waterproofing needs to be baked into the mix. You will absolutely need to choose waterproof materials and/or materials that dry out quickly if they do get wet. You'll need mold-resistant materials as well. This includes everything from the walls and flooring to the finishing touches like paints, grout, fixtures, furniture, etc. By covering basement water avoidance from both the prevention and the cure angles at the same time, you're more likely to protect your basement remodel investment from unforeseen moisture issues.
Basement Finishing: Features and Possibilities
Many homeowners also ask us, "But is remodeling a basement worth it?" You betcha. While it can return you some impressive ROI, there are some other questions you can ask yourself to determine the answer: Do you need space for relatives and visitors to stay? Do you need a home office? What about a space for your kids to play or do school? Do you need a home theater with all the trimmings? Do you need your own yoga studio or workout room? What kind of room would make your home feel fabulous? There are truly so many possibilities.
Of course, size and layout may preclude some design options. For example, you will need a larger area to convert your basement into a complete in-law suite with kitchen, bathroom, bedroom and living space. We also have some great small basement remodel ideas too, however. You could create a flex space with hide-away furniture that opens up when needed and tucks away when not needed. Perhaps you need extra pantry space, a small home office or even a wine cellar? Break out the chardonnay and celebrate your new basement layout!
Develop Your Basement Remodel Plan: Costs and Scheduling
So, how much does a typical basement remodel cost, exactly? Of course, the answer to that question is as individual as your home and your end goals for your basement. Just like any other home remodeling project, remodeling your basement requires much planning, preparation, and budgeting to get the results you want. It's important to work with a reputable Minneapolis design-build firm that will honestly work with you and help you avoid pitfalls while working toward your desired goals. On average, for a Twin Cities basement remodel, the costs can go from about $225 to $300 per square foot.
Another common question we get is: "How long does it take to remodel a basement?" The answer depends on how much work needs to be done to waterproof and prepare your basement and foundation, how big the space is and how intensive the remodel will be. In general, this could take 4 to 9 months from beginning to end, but again, it varies. If you want to know what to expect when remodeling your basement, or any other part of your home, be sure to read this and get in touch with us!
How to Finish a Basement: Avoid These Mistakes
If you're going to create a functional and fabulous basement, you'll need professional help to avoid mistakes like these (and others):
Fiberglass insulation—it gets moldy and isn't rated for damp areas.
Wooden studs—Like other wooden things, they can warp and mold if they get damp.
Wooden flooring—Did we mention the problem with wood and moisture?
Drainage and water issues—If you've come this far, we hope it's abundantly clear that all the conceivable moisture and water drainage issues must be addressed before even thinking about a basement remodel.
Layout problems—It may be possible to stray from your original basement layout, but possibly not. During the planning phase, working with the layout you have and making improvements, will all be crucial steps.
Black Dog Homes is the award-winning home remodeling contractor that Twin Cities homeowners rely on for the most demanding and glorious jobs, and we are passionate about providing our clients with the smoothest, most rewarding basement remodeling experience possible. If you're ready to get started, just
schedule a meeting with us
today and let us resolve your space issues and help your basement dreams come true!
Call us today at 786.308.5098!