Every year and every decade, there are unique and interesting challenges and aspects to building a custom home or remodeling the one you currently live in. The market for existing homes may be tight, making it an attractive option to build new or remodel. And right now, we are currently seeing historically low-interest rates. So, how to take advantage of low-interest rates right now? Since factoring interest rates into your overall home building or remodeling costs is a critical part of the budgeting process, now could be the right time to jump into your project. This is especially true since finding an existing home is so hard, at least in this current climate. Today, we'll look at getting a construction loan for remodeling, and how to go about getting a construction loan for building a custom home from the ground up.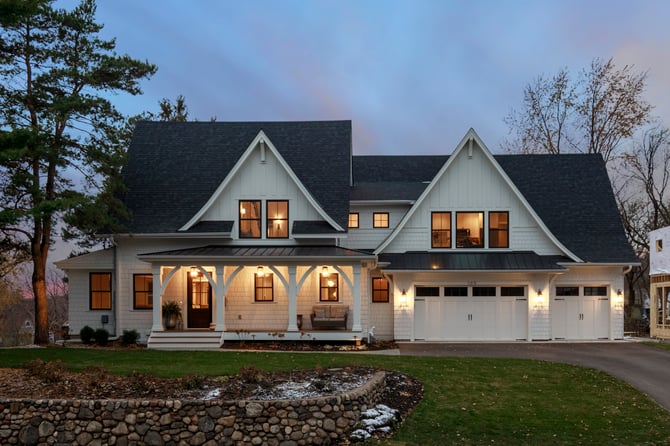 What is the Best Way to Finance a New Home Construction?
In order to finance a custom home construction project, the process starts with a construction loan. These are short-term loans that help you buy the land and start the building process. Ordinarily, the interest rates for building a custom home will be a bit higher, since the home its financing doesn't exist yet. Most lenders require at least 20% of the total land costs and estimated construction costs as a down payment. Naturally, other factors may impact the amount and interest rate, including location, the plans for the home itself, loan terms, etc. During the construction schedule, you will only have to pay interest on the amount of money paid to your builder, and then pay interest only until your home is finished. So you will need to factor all of these into your budget to answer the question, "Can you finance a custom-built house?" After that, you would switch over to a mortgage.
There are a few other things that can impact your custom home building loan as well. In planning your custom home, always keep resale value in mind when making your plans. Naturally, you'll want to make it your dream castle; just make sure the design is timeless and includes features that will stand the test of time. Working with an experienced custom home builder will help you reach that goal and ensure that your investment is worth the expenses.
What Type of Loan is Best for Remodeling?
Well, of course, that depends on several factors, such as how big of a project you want to do, how your credit stands, etc. If you like your current home and your neighborhood, now is also a good time for a home remodel, what with the lower-than-usual interest rates. And luckily, the answer to, "Is it hard to get a renovation loan?" is not so bad right now. This is especially true if your credit is good, but there are options, even if your credit isn't the best. Credit is one of the biggest determining factors of your loan interest rate; however, other influencers include your property location, what you are remodeling (i.e. resale value), and the size, type, and term of the loan. So as you think about your budget be sure to remain informed about how each of the determining factors plays into paying off your remodeling loan.
Keep in mind that refinancing for home improvement projects can also improve your home's resale value, as well as the value you experience living in the improved home! We wrote another article that lays out the most common home improvement financing options so you can learn more about which loan is best for you.
What is a Home Improvement Loan that Will Work for You?
In order to get the best loan or financing package for your project, you'll need to do some research and talk with a trusted financial advisor who understands your family's financial "big picture" as well as your goals for your home improvement, or your new custom home project. Either way, you'll need to get at least a ballpark figure for your project, which you can accomplish by scheduling a consultation with our design-build team at Black Dog Homes. We have helped hundreds of families in the Twin Cities area get their dream home, whether it was a custom home or a remodeled home, on time, and on budget, with a variety of financing options. Let's talk!