It's the holy grail of homeownership: building a custom home on your own plot of land. There is no better way to do it your way than to start from the ground up on a piece of land you can call your very own. New construction houses like these require home builders who build on your lot as well, and not every builder has what it takes to do that well. It takes a special skill set to be a Minnesota custom home builder that can help you maximize the views and opportunities your specific piece of land comes with.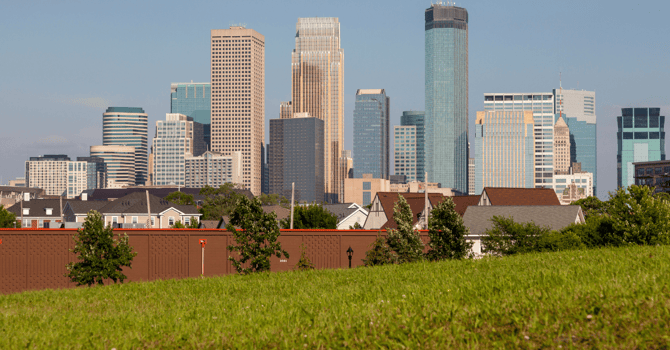 If you want to build a home on your lot, or you're still looking for land, be sure to read through our resources to learn about the process and what to expect. And rest assured, if you are still asking the question, "Can I build my own house in Minneapolis?" Just contact us at Black Dog Homes for a personal consultation. We can help you find the right solutions to your custom home building questions!
How Do I Find a Lot to Build a House in Minnesota?
If you've been searching how to "find a lot to build a house" or "buy cheap land in Minnesota" on Google and just find the whole process overwhelming, you're not alone. And even if you have your heart set on a particular lot or a particular neighborhood, it can help to have an expert in your corner. At Black Dog Homes, we have our finger on the pulse of potential lots and neighborhoods where there are lots for sale, and we can help you narrow down particular plots of land that could have your name on them.
As an experienced builder, we can dig deeper into the story of a piece of land and help you compare locations, terrain limitations, and list prices with other lots on the market to help you get the best deal that will suit the custom home you would like to build. While this process can be somewhat time-consuming, it's important to start in the right place, from the ground up when you buy land here.
And don't forget to search for government-seized land as well, which may have some great potential at auction prices. Of course, land prices change with seasons and economic currents, so keep this in mind as you search.
How Long Does It Take to Build a House in MN?
Once you have the land you want, the question of how long it might take to build homes on your lot comes next. Of course, finding the right lot can take a few months, but figuring out how long it takes to build a custom home depends on several factors, not the least of which is the size of the custom home you want to build. Creating a home design from scratch on a piece of land that will have its own unique character takes longer than remodeling.
To give you an idea of what to expect, on average, design and pre-construction alone could take about 6 to 8 months, possibly longer. This phase is critical and should never be rushed. All sorts of investigations into the land itself and settling on designs and materials before the building begins can save a lot of time and trouble later on.
Once the actual building starts, your building time could take anywhere from one to two years from start to finish. Always remember, it depends on the size and complexity of the special features in your custom home design and the land we're building on. In addition to the elements just listed, it's important to factor in your custom home builder's schedule and workload, how long it takes to get all of the right permits, and, here in Minnesota, the weather! While building a house in the Minneapolis area may not always be fast or easy, it is most definitely worth it for the reward of living in a house that you love, in a neighborhood that you love, and on land that you picked out personally. Another resource that can help you as you plan ahead is to download our custom home building guide which details out all the steps you will need to consider when moving forward with a custom home build.
Is It Cheaper to Buy or to Build Your House?
Again, this question seems easier to answer than it actually turns out to be. For one, you might buy a house you like, but then decide that it needs significant remodeling to suit your needs. So, that is both cost and time you'll need to add to buying an existing home. On the other hand, buying land and building from the ground up may take a bit longer and require more a little more involvement to get the custom features you want, but at the end of it, you get the home and layout you truly wanted without having to compete with other buyers for a home that is only partially ready for how you want to live.
Black Dog Homes: The Build on Your Lot Home Builders Twin Cities Families Trust
Whether you decide to buy a lot and build on it or to buy an existing house and remodel to suit your needs, it's important not to make these hefty decisions on your own. Research what you can, come up with ideas and plans but then reach out to us. Schedule a meeting with the home builders that Minneapolis trusts—Black Dog Homes. We can help you get the home you want, stay within a budget, and stave off any potential problems while getting the results you desire!