For many modern families, the kitchen has transformed into the central hub of daily life. In this communal space, household members participate in a range of activities, from cooking, cleaning, and dining to working on class projects, video-conferencing colleagues, and socializing with friends and family.
Because your kitchen plays such a central and versatile role, it's worth investing to keep the space looking and functioning well. Remodeling enables you to change various features that have started to cause frustration or lose their appeal over time so your kitchen can continue to support your evolving lifestyle needs.
Related: Low-Interest Rates in Minneapolis: When is the Right Time to Finance Your Remodel or Custom Home?
Budgeting for a Kitchen Remodel in the West Suburbs
As you prepare to remodel your kitchen in the Twin Cities area, there's probably one main question on your mind: What will it cost?
The short answer is that it depends, which may not seem very helpful when you're trying to set a preliminary budget. The good news is that there are several common factors that influence the cost of kitchen remodeling. When taken into consideration, you can start calculating your projected costs and set a budget with a ballpark range that will later be refined with the help of your remodeling team.
The average cost to remodel a kitchen depends first and foremost on the size of the space, its current layout and condition, and your intended scope of work. For example, a minor refresh to update the style will cost significantly less than a major kitchen makeover to transform the layout and function. Reconfiguring your kitchen to create more space or add in new fixtures and appliances will increase the cost, as that project often involves structural changes, like opening walls, as well as extensive work to alter your plumbing, electrical and gas lines.
Another factor that significantly impacts kitchen remodeling pricing is the type and quality of materials, fixtures and appliances you select. Most products involved in remodeling are available at different price points based on their quality, exclusivity and/or special features. For example, you have the choice between custom cabinetry or stock cabinets, laminate countertops or marble countertops, resilient flooring or hardwood, and basic ceramic tiles or imported tiles for the kitchen backsplash. Choosing higher-end products and materials enhances the customization and value of your kitchen but also increases your budget.
Other costs you should account for include labor, design fees, permitting fees and debris disposal fees. The time of year when you remodel may also marginally impact the price. Additionally, making changes to your plan once construction has started often leads to delays and extra costs, so it's important to solidify your selections during the design phase. Working with a design-build remodeler can help, as your builder has the opportunity to provide insight and information while the plan is still being developed and you can go into construction feeling more confident.
Kitchen Remodeling Costs in the Twin Cities
While there are several factors that influence your final project price, you can set an initial budget based on your starting vision. Here is a look at the average cost for kitchen remodeling at the two most common levels:
Midrange Kitchen Remodel Costs
A midrange kitchen renovation typically involves taking an outdated but functional 185- to 210-square-foot kitchen and giving it a fresh, modern look and feel. The cost for this level of kitchen remodeling ranges from about $40,000 to $70,000.
At that price, you can replace about 15 to 30 feet of old cabinetry with new, semi-custom cabinets, including a multi-use kitchen island. Additionally, you can replace your existing appliances with new energy efficient models at the midrange level. That includes your wall oven, cooktop, dishwasher and refrigerator. You can also install a built-in microwave and garbage disposal if you don't already have them. These upgrades are complemented with the addition of a new double-tub, stainless-steel sink and custom lighting. At the higher end of the spectrum, you can choose a quartz, engineered stone or solid-surface countertop instead of economy grade laminate or tile. Finally, your kitchen makeover is finalized with a fresh coat of paint for the walls, ceiling and trim and new resilient flooring.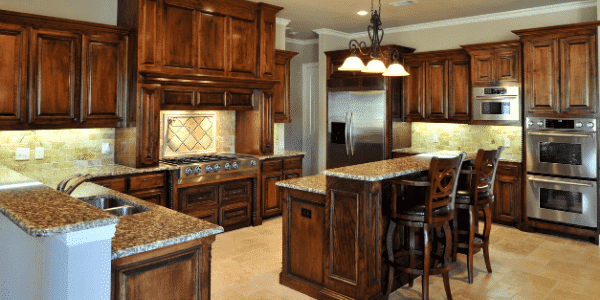 Upscale Kitchen Remodel Costs
If you want to significantly improve or change the function of your kitchen and turn it into a luxurious environment, you can opt for an upscale kitchen remodel to the tune of about $110,000 to $140,000. At this level, you have the latitude to select a new layout and change the location of your major kitchen components to add in a dining nook or a large island with seating or to create more flow with an adjoining space. These major structural changes are typically accompanied with adjusting your plumbing system, updating your ventilation, and rewiring. You may also want to install new doors leading to your deck or backyard for an optimal indoor-outdoor living environment.
For fixtures and appliances, you can select luxury options, including custom cabinetry; granite, marble or butcherblock countertops; stone, hardwood or custom tile flooring; a commercial-grade oven range and vent hood; a high-end undermount sink with designer faucets and a water filtration system; and customized general and task lighting.
While luxury upgrades bump up your overall kitchen remodeling cost, they provide long-term value by improving the quality of life for your family. Not to mention, high-end appliances perform better and last longer, and integrating smart technology and energy efficient solutions into your kitchen remodel minimizes your carbon footprint, maximizes convenience and potentially leads to lower utility bills in the future.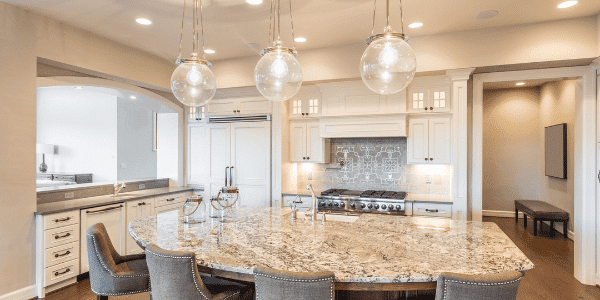 Custom Kitchen Remodels in the West Suburbs
The beauty of a custom kitchen remodel is you can develop a plan that is specifically tailored to your personal and financial circumstances and future goals. As a design-build remodeler, Black Dog Homes can help. During the design phase of the project, we will work with you to refine your vision, implement value-engineering and create drawings that capture your project priorities while staying within your established budget.
You May Also Like: How Can I Get Prequalified for a Remodel or Custom Home Build in Minneapolis?