Ready to build your custom home in the Minneapolis suburbs? One of the first items you'll need to line up is a piece of land to build on. Your building lot is important not only in relation to the location of your home but also to the topography of the lot which has quite the impact on the custom build as it will dictate the architecture, size, zoning accommodations, and cost of your house. Overall this will influence your budget both in the cost of the land but also in any topography accommodations that may be needed.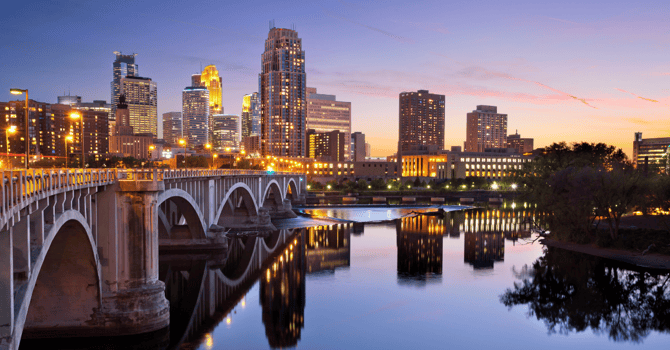 How Much Does Land Cost in Minneapolis?
Clients ask us this question often. Unfortunately, there's not an easy answer. Like most things in real estate, location plays a big role in the price tag. That's why the average cost of one acre of land in Minnesota depends heavily on where it's at and the size of the lot.
Building lots on the shores of a lake are generally more expensive than lots elsewhere in the Minneapolis suburbs. For instance, a 2-acre lot in Wayzata that overlooks Lake Minnetonka costs $1.5 million or $750,000 per acre while a one-acre lot on Rowland Road in Hopkins might only cost about $200K.
With so much variability in land prices, it's difficult to say exactly how much an acre of land costs in the Minneapolis suburbs. But a general ballpark range would be $500K-$800K for a one-acre lot.
Related: How Can I Get Prequalified for a Remodel or Custom Home Build in Minneapolis?
Where is Land the Cheapest in the US?
States with consistently low cost per acre of land include Tennessee, West Virginia, and Arkansas. These states have residential land for sale that ranks 30-40 percent lower than the national median.
But that's not to say you can't find cheap land in Minnesota. In fact, many people wonder if there's free land in Minnesota. The answer is yes, but it's a trade-off. Some smaller, rural towns give land away for free. New Richland, located about 90 miles south of Minneapolis, will give you a plot of land as long as you commit to building a home within a year of the grant. Claremont, another small town 30 minutes from Rochester, also gives away land to people to build homes.
Even though the towns offer free land in Minnesota, many people don't want to live in these rural settings. Since demand is higher in areas closer to major cities, land prices in the suburbs tend to be higher.
How to Choose Land for Your Custom Built Home
When buying land to build a house in Minnesota, you should think about more than just the price tag. Here are some things to consider.
First, find a Minnesota community that meets your needs. Narrow down your search to a few areas where building lots are available. Do some research to learn about the areas and visit the communities to see if the overall vibe is a good fit for your family.
When buying land to build a custom home, you'll also need to think about the things you would consider when buying an existing home. These might include things like:
School district
Property and/or special district taxes
Proximity to conveniences and stores
Proximity to any family in the area
Commute time to work
Neighborhood amenities
Area safety
Geography
Proximity to the city center
Another thing to consider when buying land is the number of site improvements you'll have to make before building your home. If you have to build roads to access the lot, connect to sewer lines, add a septic system, the overall cost of building your home will increase.
It's a good idea to have a few communities in mind to make your search for land a little easier. That way, if you can't find what you're looking for in your preferred area, you will have a fall-back plan. Remember -- it's perfectly acceptable to go back to the drawing board and select another community where you can find land that best meets your needs.
Communities to Buy Land in Minneapolis
Thinking about building a custom home in the Minneapolis suburbs? Here's some information on a few of our favorite areas:
Eden Prairie
Consistently recognized as one of the best places to live in the United States, Eden Prairie is popular among families. Lots and acreage are available for building custom homes ranging from $350K to $900K.
Excelsior
Located 15 miles southwest of downtown Minneapolis, Excelsior sits on the southern shore of Lake Minnetonka. Building lots here range from $325K to around $900K.
Waconia
A former vacation destination, Lake Waconia is a popular place to build a custom home. Land prices here are a bit lower than on Lake Minnetonka. You can buy a lakefront lot for less than $300K.
Let Black Dog Homes Help
If you're looking for land, we can help. While we don't sell building lots, our experienced team can lend advice and even point you to a realtor who can help you find the perfect place for a custom home. Whether you have your lot of land secured or not, check out our process to learn how we approach the custom home building. Then, schedule an appointment so we can help you get started building the home of your dreams!