4. Black Beach
A small but beautiful beach on the North Shore of Lake Superior in Silver Bay, Black Beach is named for its unusual but stunning fine black sand—the result of taconite mining many decades ago. The water has since been restored to its pristine condition and the beach has been open to public use since 2015. Featuring almost otherworldly beauty and surrounded by jagged cliffs and rock formations, Black Beach almost feels like a secret oasis.
5. Camden State Park
The Redwood River, a designated trout stream, weaves its way through the cool, forested valley of Camden State Park, a roughly three-hour drive from Minneapolis. You can access the water for wading and fishing at several locations. For swimming, take a dip in the spring-fed pond built by the Veterans Conservation Corps in 1935. The park also is the ideal location for enjoying Minnesota's flora and fauna, including restored prairies, wildflowers, and fall foliage.
6. Iona's Beach
Iona's Beach is a Scientific and Natural Area (SNA) on the North Shore in Minnesota. It was acquired to protect one of the largest and least-disturbed Lake Superior beaches in Lake County. The crystal clear waters and unique salmon-colored pebbles create for a stunning combination—especially at sunset. You are allowed to use the area for fishing and swimming. You can also bike on the Gitchi Gami State Trail and enjoy bird- and wildlife-watching.
7. Flandrau State Park Beach
Flandrau State Park, located near the small town of New Ulm about 90 miles from Minneapolis, contains a human-made swimming pond that is chlorinated and wheelchair-accessible. The sand on the bottom of the pool leads into a beach alongside the water and the site also features a playground, picnic shelter, and volleyball court, which makes it the perfect destination for recreating with your children.
Best Lakes in Minnesota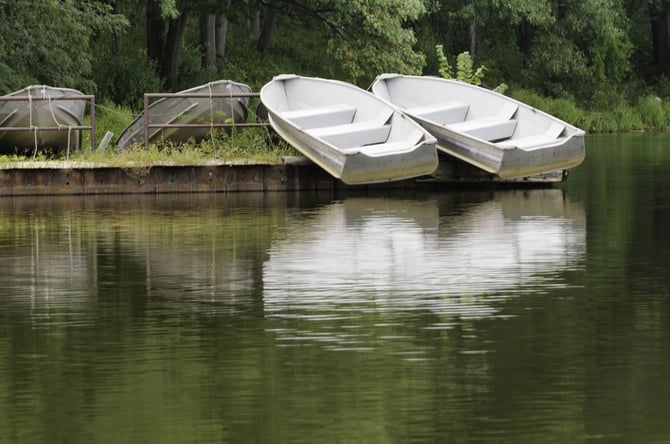 While swimming is often a major draw for visiting a lake, their allure extends beyond that. Sometimes it is fishing, kayaking, or boating that calls you to the water. Other days, it is simply the desire to withdraw from the hustle and bustle of the Twin Cities area and find reprieve reading, relaxing, or picnicking beside a dazzling lake. Whatever you're in the mood for, here is a roundup of some of the best lakes in Minnesota:
1. Hayes Lake
The north fork of the Roseau River feeds into Hayes Lake, which is about 330 miles from Minneapolis in northwestern Minnesota. You can camp in the Hayes Lake State Park and take your canoe or paddleboat out on the water. In terms of boating, only electric motors are permissible for use on Hayes Lake. The body of water also provides habitat for large-mouth bass, sunfish, and crappie. You also can pick blueberries and view orchids, gentians, and dozens of species of birds near the lake. Trails for hiking, skiing, snowmobiling, and horseback-riding connect with the Beltrami Island State Forest.
2. Itasca State Park
Itasca State Park has not only one, but more than 100 lakes in the park, which gives you plenty of options for exploring and recreating during any season of the year. Located in Park Rapids, Minnesota, Itasca has a variety of campsites, interpretive programs, a paved bike trail, hiking trails, and the Lake Itasca swimming beach. There is also boat access throughout the park, include at Lake Itasca, Ozawindib Lake, Elk Lak, and Mary Lake.
3. Lake Vermilion
Lake Vermilion, the fifth largest lake in the state at more than 40,500 acres, is located in northeastern Minnesota. Vermilion gets its name from the Ojibwe word "Onamuni," which means "Lake of the Sunset Glow." Considered one of the most scenic lakes in the country, Vermilion features 290 miles of shoreline. While the lake is perfect for visiting in the summer—especially if you want to fish for walleye and muskie—it is also enchanting in the winter when the water freezes over and you can enjoy ice fishing, snowmobiling, and ice skating.
4. Lake Pepin
Lake Pepin is a naturally occurring lake that sits on the Mississippi River between Minnesota and Wisconsin—about an hour southeast of the Twin Cities. With shorelines well-known for their beautiful landscapes, Lake Pepin should be among your go-to spots for fishing and bird-watching. Additionally, the only working lighthouse on the entire Mississippi River is found at the entrance of Lake City Marina. If you want to extend your stay, you can camp in Frontenac State Park.
Lakes Near Minneapolis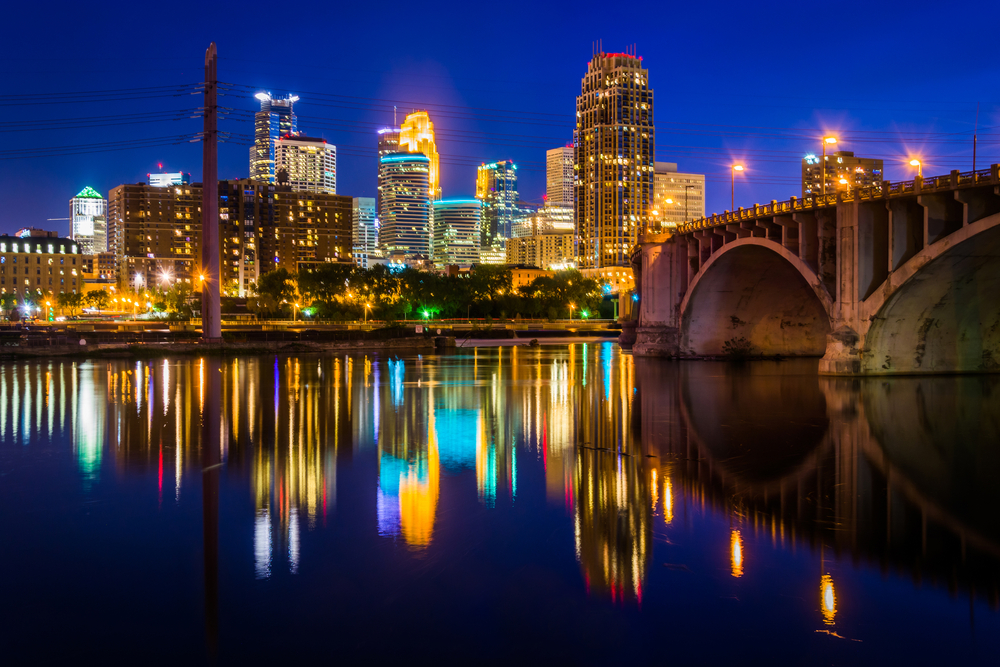 Even in you don't have the time or ability to take a long road trip to access a lake or swimming beach this year, there are several spots within the direct Minneapolis area to recreate on the water. A few of the best lakes near Minneapolis include:
1. Lake of the Isles
Lake of the Isles, which is located in Minneapolis, is considered one of the most beautiful lakes in the area. It is encircled by a path on which you can walk, jog, or bike. During the winter, you can go ice-skating atop the lake's surface. Centered within the lake are two forested islands that are actually protected wildlife refuges, which means you have to admire them from afar.
2. Lake Harriet
Lake Harriet, located just south of Bde Maka Ska and north of Minnehaha Creek in Minneapolis, is surrounded by parkland. This picturesque lake offers clean beaches, picnic areas, and walking and cycling trails. There is also a bandshell, which makes Lake Harriet the site of numerous summer concerts and other special events. If you want to get out on the water, you can rent a canoe, kayak, boat, or paddleboard through Wheel Fun Rentals.
3. Lake Phalen
Lake Phalen, which sits in Saint Paul's Maplewood suburb, is one of the largest lakes in the city and the one spot that allows swimming. You can also fish for walleyes, northern pike, tiger muskies, and other fish in the still, peaceful waters. Since no gasoline outboard motors are allowed on the lake, it is the perfect spot for a relaxing day of spending time with friends or family members in the outdoors. Phalen Regional Park also includes a picnic shelter and pavilion, sporting fields, a golf course, and a spectacular Chinese garden.
Building a Home in the Twin Cities
Minneapolis and the Western Suburbs are touted as some of the most livable cities in the United States. With ample green spaces and lakes located both within the Twin Cities and throughout the entire state of Minnesota, it's not difficult to understand why. If you're interested in moving to this vibrant metropolis, Black Dog Homes can help you
build a custom home in Minneapolis
or the surrounding area. Our services also include home remodeling, home additions, and general contracting services that enable you to enhance and invest in the home you love.